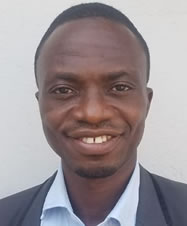 Samuel is an International Development professional with over 14 years of program management and technical expertise in designing, setting up, and managing multi-sector projects including health, agriculture governance, capacity building, and institutional strengthening. He possesses extensive experience framing and managing relationships and strategic partnerships with government, development partners, and civic institutions.

In his recent assignment with CARE International, Samuel managed a joint US Government and Mars Incorporated-funded women empowerment project, with consortium presence and impact in Africa, Europe, and North America. He provided strategic leadership as well as programmatic, financial, and technical oversight to the consortium organizations.
Prior to that, he had working stints at World Vision International, Opportunity Industrializations International, and consulted for multinational organizations such as Newmont Corporation. He managed government and private funds and led diverse teams to design, manage, and close out complex projects and partnerships. He has participated in forums and conferences and understands diplomacy and relational ethics.

Samuel is now the Senior Program Manager for AFREhealth, responsible for providing management, technical and operational support to interdisciplinary experts and institutions across Africa to deliver on AFREhealth's mandate. He comes into this role with a strong grounding in program design and management, results-based M&E, communications, capacity building, institutional strengthening, partnership brokerage and management, gender-responsive programming, and donor compliance. He has good interpersonal skills and leverages teamwork and collaboration to achieve organizational goals. Samuel has a master's in Development Management (International Development) and a bachelor's degree in Development Planning.