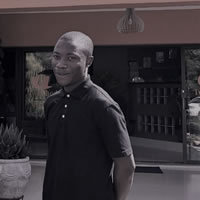 Name: TANAKA SAMUDZI
Name of institution: UNIVERSITY OF ZIMBABWE
Course Studying: PHYSIOTHERAPY
Motivation for joining
I wanted to expand my knowledge in patient management and to build network connections with other health professionals globally, so as to widen my career opportunities.
Key lessons learnt
• Work with individuals of other professions to maintain a climate of mutual respect and shared values
• Inter-professional Communication is key in delivering holistic patient care
• Communicate one's roles and responsibilities clearly to patients, families, community members, and other professionals. Also be able to recognize one's limitations in skills, knowledge, and abilities.
• With teamwork, integrate the knowledge and experience of health and other professions to inform health and care decisions, while respecting patient and community values and priorities/preferences for care.
Plans moving forward
I started an organisation called HEALTH FOR ALL TRUST (HFAT), registered under the Zimbabwe Youth Council in the health and social welfare sector. The organisation comprises of health professional students from various fields inclusive of physiotherapy, occupational therapy, audiology and speech therapy. Its aim is to help underprivileged people living with disabilities together with the communities they live in. To achieve this, the organisation engages in advocacy and education on health-related issues for the differently abled. The Trust is to try and improve their health-related quality of life and bridge the gap in access to opportunities hence enabling individuals to prevail in their chosen environment. The organization's core values are hope/support; health for all and community engagement. My aim is to partner with other international organisations in planning and initiating health programs that foster core values of IPEC in African countries, so as to benefit our under-resourced societies