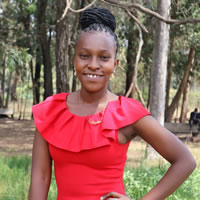 Name: Njeru Raisha Kendi
Name of Institution: Kenyatta University
Course studying: Bachelor of Pharmacy
Motivation for joining or attending the program
• Exposure to the clinical environment which would allow me to bridge the gap between theory and real practice.
• Exposure to medical professionals from other healthcare specialties, which would strike a mutual understanding for the need to provide integrated and inter-disciplinary patient centered care.
Key lessons learnt and any plans moving forward.
• I was able to understand the tenets of research which is a crucial component of clinical practice.
• I was mentored into clinical research which gave me an upper hand in my school work.
• I got to interact with various health professionals from Uganda.
• I learnt about the measures taken by health care professionals to combat the Covid-19 virus.
• The program was transformative and I plan to stretch beyond limits to ensure transformation in health care practice.