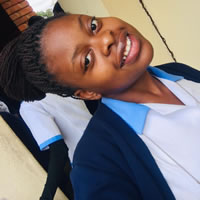 Greetings to you all, I would love to thank you AFREhealth and Busitema University of Uganda for granting me this opportunity to share my experience/ journey on the virtual IPE program. My name is Mwansa Paxina Mwansa from Lusaka University College of Nursing (LUCON) in Zambia. I am a third year Public health nursing student pursuing a diploma.
The reason why I joined the program is in line with the course I am studying i.e Public health nursing, which is a specialised type of nursing that basically focuses on primary prevention of disease by fully engaging the community in matters that concern their own health such as sensitizing them on how they should go about certain things in their day to day activities without jeopardising their own health and also getting information from them e.g challenges they face in their community that compromise them from making healthy decisions. Attending the program means that I attain more knowledge as to how I can help the people of Zambia and the world at large protect themselves and others from becoming hospitalized and lessen the congested numbers of patients in the hospital which in turn lessens the burden on health workers.
The Interprofessional Education virtual program ran for 6 weeks and in the course of the 6 weeks we learnt a few differences and similarities in health care between Zambia and Uganda.
In a nutshell, a few key points that I took from the program is that, firstly it takes you and I to make a conducive environment that is near free from infection. Secondly, every member of the healthcare team has a role to play in protecting themselves and others from acquiring nosocomial infections. Thirdly, intersectoral collaboration is a cardinal aspect as the health sector on its own may not manage to achieve all its goals without support from other ministries. Above all looking at the health gaps that we had reviewed from some of Uganda's health statistics, I learnt that there is still a lot of work to be done in order to be a healthy people. Therefore, it requires individuals to use their own initiative and believe that the sky is
the limit in coming up with ideas that can help curb our health-related breaches.
Moving forward, I plan to be one of the best health advocates there has ever been. With proper assistance and funding I intend to bring into enaction an organisation/ health scheme called Zambia Crime Awareness Plan (ZCAP) which will look at individuals holistically i.e. mentally, physically, emotionally and spiritually and help reduce the crime rate by all means possible through intersectoral collaboration and regular forum meetings at intervals of five years to review statistics and how the proper objectives stipulated in the organisation objectives have assisted in reducing crime and all its adverse effects such as post traumatic stress disorder(Mental), injury(Physical), Depression and de-motivation(spiritual/emotional) which can affect one's health and even when carrying out surveys we will discover other health problems in a particular area. As a survivor of a terrible mug attack I believe there is more that we all can do in different sectors to ensure that people are healthy and safe and heal from the pain they experienced at that ungodly moment for in some unfortunate cases others have lost relatives or people closest to them.