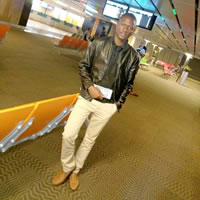 Name: Marcelino Simão Chirute
Name of institution: Universidade Lúrio - Faculdade de Ciências de Saúde (Lúrio University - Health Sciences Faculty)
Course: Medicina (Medicine)
Motivation for joining/attending the program
I had an exciting experience in 2019 when I traveled to Lusaka (attached photo - OR Thambo International Airport, Johannesburg), where I could experience different guidelines as good as ours and I could meet wonderful tutors (Dr Munga from UnZa - UTH). The reason above made me wonder if it would be possible to enjoy a virtual experience as I did when I had to travel and the answer surprises none - it was wonderful too. I was hoping to establish networks and it was possible. I wanted to spread my name and my school's name.
I was hoping I would be able to keep in touch with GEMx to find a way of becoming member/ambassador, but I wasn't courageous enough to mention that last year, but I'm still interested.
Key lessons learnt & any plans moving forward
Our patient is a book; every book has parts and has a touch from many people. To write a book we need help, and the help comes from others- teammates. As a future Medical Doctor, I'll work with nurses, nutritionists, pharmacists, physicians, etc. and as a team we'll read our book and rewrite it in order to make it better. I'm still interested on becoming member/ambassador, and I'll do whatever is possible to reach that goal.