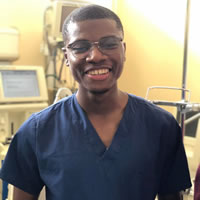 I am Kwadwo Ohene Darko of Kwame Nkrumah University of Science and Technology studying Doctor of Pharmacy. I may not remember when it started, but I have desire to acquire as much knowledge and its variants, success cards, experience and exposure as I can.
And when it was with regard to my future profession as a pharmacist, I needed no stronger
motivation to enroll in the GEMx student exchange program that I believed with its commitment to strengthen the future healthcare workforce will meet my expectation of contributing to my innate worth as a pharmacist and as a professional. And I did leave with more ammunition in my arsenal to face the future profession ahead of me.
In my attempt to share a few, I have learnt and understood the dynamics of human nature- what to expect to work with, colleagues and team professionals and patient dynamics.
Being a team player not only entails in how much you strongly involve yourself, but also knowing when to step back for others. There's a big world out there with problems to solve, and it's never too early or too late to solve it. You don't need the talent for it. You can simply learn how to; like I could with GEMx
My experience has opened up a vital world to self development and I'm eager to do more and
experience more of these.