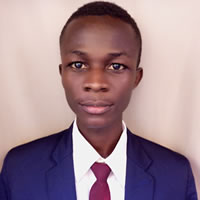 I am Kamoga Livingstone, From Makerere University College of health sciences, and currently a pre-intern nurse. I was among the lucky few students who were selected to attend the IPE virtual elective program hosted by Debre Tabor University Ethiopia, College of Medicine and Health sciences. We learned about Protein Energy Malnutrition (PEM) from our facilitators who shone a light on the challenges of malnutrition in children under the age of 5 years and their effects on the development of the nation. This was a virtual exchange that came at a time when I was having classes at my institution and attending clinical rotations. The beauty was that I improved my multitasking skills as I was able to attend virtual classes and complete all my tasks here at the university and those from the program.
I was motivated by the announcement of the first online course entitled "Targeted maternal health initiatives for reducing maternal mortality and morbidity." This was forwarded to us by our lecturer (Mrs. Lydia Kabiri). Knowing little about the exchange programs by GEMx plus my desire to reduce maternal and infant mortality, I was compelled to join this program. The IPEC skills that I could acquire from this program also fostered my enthusiasm.
Key lessons learned & any plans moving forward
During the virtual program, I was able to gain knowledge on the various methods of nutritional assessment, causes of protein-energy malnutrition, and its management. I hope to transfer this knowledge to my patients as I deliver holistic care to them. I also gained experience in working with multidisciplinary teams while providing holistic and patient-centered care to the children we provided care for at MwanaMugimu nutrition care unit Mulago National referral hospital.
Finally, I would like to extend my sincerest thanks to FAIMER-GEMx Africa and Makerere University College of Health Sciences for the opportunity granted to attend this virtual IPE elective program in 2021.