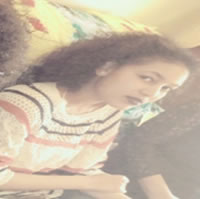 Name: Kalkidan Demile
Institution: Debre Tabor University College of Health Sciences and Medicine
Course: Medicine
I was on this GEMx IPE elective online education last year and the reason why I joined the program was my interest to attend virtual experiences with other people from Africa for the first time; and I also thought it was a very brain storming, absorbing and engaging bill of fare.
The topic that we selected was about dog bites and rabies. We discussed the science behind the disease and its prevalence in Africa especially in Ethiopia and Rwanda. At the end of each discussion, we took home assignments and presented them the next weekly program using PowerPoint.
I am sure enough to say that the IPE virtual program has helped me to read some lessons curiously that I wasn't previously reading, and apart from academic stuff, it was a big experience of my life as an online program and for this I would like to thank the program administrator Ms. Phionah and Program manager in my school, Dr. Biniyam.
I would like to encourage other students to join the program whenever they get the chance.