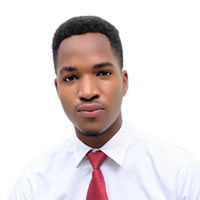 Name: LUBEGA JASON
Name of institution: MAKERERE UNIVERSITY COLLEGE OF HEALTH SCIENCES
Course studying: BSc. BIOMEDICAL SCIENCES, Year III
Motivation for joining / attending the program
I was looking for opportunities to learn while practicing in a different environment. I was also curious to see how a multidisciplinary team would handle its first case, and I am grateful to ECFMG FAIMER, GEMx, Makerere University, and our host institution Debre Tabor University for providing me with this opportunity.
Key lessons learnt & any plans moving forward
At Debre Tabor University in Ethiopia, my team took an elective in Protein Energy Malnutrition. For a long time, I thought malnutrition was a minor and unimportant condition, but a visit to the Nutrition Unit changed my mind. Food is your medicine.
We were an inter-professional team, and I liked how we supplemented each other's knowledge. I hope to open a health facility that emphasizes an inter-professional approach to patient care in the near future and I also hope to become a better health professional as a result of this student exchange.
Many thanks.