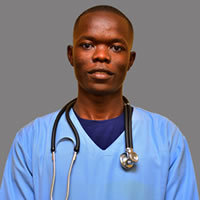 NAME: EVANCE JUMA OTIENO
NAME OF INSTITUTION: KENYATTA UNIVERSITY
COURSE STUDYING: BACHELOR OF SCIENCE IN NURSING
MOTIVATION OF JOINING THE PROGRAM:
The program's aim of offering educational health opportunities in the health sector was a great motivator in applying to join. As a nursing student who appreciates the role that an Inter-professional partnership can do in improving the quality of patients and community health, I felt it was the right direction in forming this inter-professional network and learn from my fellow colleagues. I was also interested in joining the program since I was aiming at improving my clinical knowledge and skills in managing patients through the application of evidence based practices learnt from the program.
Through the program, I was also looking forward to being more confident in handling my presentations and work, and a resourceful individual equipped with the latest information regarding the handling and management of health conditions. The other reasons that motivated me to join the program were anchored on the fact that capacity building and mentorship services are great skills that I always look forward to and I felt it would be great to be mentored and taught by individuals in the healthcare sector.
KEY LESSONS LEARNT AND ANY PLANS MOVING FORWARD:
Through the program, I was able to learn skills that are vital in not only navigating the medical field but also important in improving my daily life interactions. The key lessons that I learnt from the project include problem solving skills, embracing teamwork among the healthcare members, ability to be able to manage the available resources effectively and efficiently, the need to set goals and objectives and working towards meeting them within the specified time frame and the need to use critical and creative thinking while managing challenges.
The other key lessons that I learnt from the program was the need to apply inter-professional communication in solving health related problems and emergencies such as COVID-19 and the need to uphold inter-professional commitment and teamwork in coming up with such solutions.
I will always be grateful to the GEMx team for honing my team playing skills as an individual. My professional plans entail doing more in the research field and coming up with evidence- based practices and solutions to the benefit of the patients and the community as a whole.