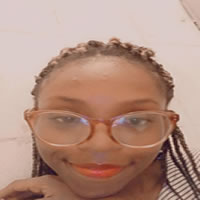 Hello there!. My name is Claire Wangari Mwenda. I am a student at Jomo Kenyatta University of Agriculture and Technology briefly abbreviated as JKUAT. I am currently pursuing an undergraduate program in Bachelor of Pharmacy.
Motivation for Joining and Attending the Program
In brief, my motivation for joining the IPE virtual program was to gain as much knowledge as possible about relating with other medical professionals in the field. I was also driven by my need to gain as much experience and exposure as possible while in school that I would eventually use in my practice years.
My motivation for attending the program without fail was the able and functional team that was participating in the training. Both the facilitators and the trainees were friendly, helpful, kind and knowledgeable and I would always leave the meetings fulfilled. The topic that we selected was HIV/AIDS and I am passionate about the treatment of HIV and this fuelled my need to participate and attend the classes.
Key Lessons Learnt
The key lessons learnt were that the treatment plan of Kenya and Zimbabwe do not differ by much. The only difference came about when I learnt that Zimbabwe has a program where to cut down on cost of travelling to health centers to get the antiretroviral drugs, they established groups where one person would go for the ARV's of the entire group. Each member in the group would take turns to get the drugs.
I also learnt of the adverse effects that come from taking the ARV's with traditional medicine e.g. moringa. I learnt that before refilling the ARV prescription, I should check if the patient is on other medication and the possible interactions of the medication with the antiretroviral drugs.
Plans Moving Forward
My plans moving forward is to participate in as many educational programs in order to be more knowledgeable in the medical field. These plans will eventually make me a better pharmacist in future and ensure the optimum best care of the patients.