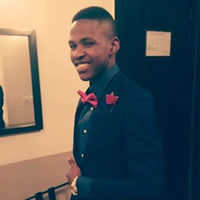 Name: Makata Chibuzo Aloysius
Institution: University of Ibadan, Nigeria
Course of study: Medicine & Surgery
Motivation
I was fascinated when I came across the program at Jomo-Kenyatta on the "Care of sick newborn" even though there were numerous other options to choose from including one at Makerere University, Uganda.
Having interned at a neonatal intensive care unit during one of my holidays in medical school, it was sad to see preterm babies not even given a chance for survival. I had also excelled and was nominated for a prize in neonatology. I felt it was time to dive deep into the topic of sick newborn care in Africa, hence my decision.
Keynotes / lessons learnt: (Personal and professional skills)
The personal skill I developed was abstract thinking and deductive reasoning in approaching new challenges by ruminating on innovative ways to do things by always asking the problem statement, "Is there a better way or another way".
My Social interaction skill was also embellished and I am more open to questions and constructive criticisms as my critical reasoning skill grows.
My interprofessional communication skills has never been any better than now as I have learned to express my opinion to other professionals in a humble and responsible manner that foster team spirit and collaboration in the care of patients.
I've also imbibed the culture of maintaining mutual respect while identifying a common goal with other members of my team
I've also learned the art of teamwork and team-based practice.
Plans moving forward
I've grown a lot of interest in interprofessional collaborative practice and I hope to spread the imbibed teachings as I journey forward in my medical career. As part of continuous medical education, I hope that someday the overall impact will be felt in patient care in Africa. Right now, my emphasis is on spreading the doctrine of IPE in my little contact with health professionals whom I work with while I also think of innovative ways to help the African child survive. I have a dream that someday, I will be given a larger stage to educate people about the subject matter.