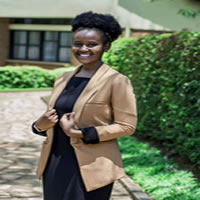 I am called Charity GIKUNDIRO from University of Rwanda. I am a final year student in the faculty of Dental Therapy.
Motivation for attending the program
I was first told of the GEMx program by our member of staff. Then I joined and attended the first session where we were informed that these are topics shared by several medical African universities, and were later being facilitated by one of the institutions.
I enjoyed the experience of working with staff with whom I was not familiar with, in novel learning methods and was mostly interested in working with a new group and finding ways to achieve our tasks. This experience made it exciting to always attend the sessions.
Key lessons learnt and any plans moving forward
In this experience, I learnt mostly how to adapt to working in a new environment. I was with a team of fellow students who I was not familiar with, even more I was interacting with new people with a different culture, attitude and language. We had to quickly adapt and get to the set goals. We did that smoothly after overcoming a few challenges.
In addition, I learnt more about my continent, Africa and some medical challenges it is facing. We discussed some diseases that are common around Africa and challenges faced while battling with them and we came up with some solutions. From this, I was educated more about those diseases and the many ways that some different African countries have adopted to eradicate them.
From this point forward, as I start my career, I will do my best to address to my ability some of these issues since this experience opened my eyes to them.