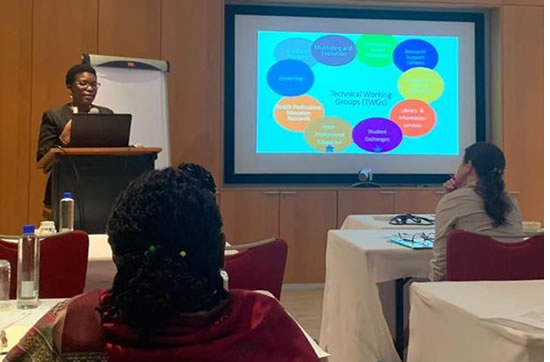 Nairobi Kenya, 31st May & 1st June 2019.
The Afya Bora Consortium invited AFREhealth to speak at the Mid-Fellowship Meeting for the Afya Bora Consortium Fellowship in Global Health Leadership which is supported by the U.S. Health Resources and Services Administration (HRSA) and PEPFAR. The meeting was held in Nairobi, Kenya at the Fairview Hotel on May 31st and June 1st, 2019 and Prof. Elsie Kiguli-Malwadde, AFREhealth Secretary represented AFREhealth. It was a delight to represent AFREhealth at this meeting and tell them about the AFREhealth activities and vision for Africa. 
The Afya Bora Consortium aims to contribute to health systems strengthening in African partner countries by implementing a leadership training program targeting African and US health professionals.  The Afya Bora ("better health" in Swahili) fellowship model focuses on training leaders for HIV/AIDS prevention, care and research programs. It is in its seventh year. It has graduated 164 fellows (68 nurses, 87 doctors, and 9 public health professionals. 
The meeting brought together 25 Fellows, Consortium Working Group members, key stakeholders, other representatives from participating African and US institutions to discuss current goals of the training and the desired outcomes of participation in the fellowship. It was interesting to meet young African health professions, nurses, medical doctors, epidemiologists and others as well as faculty from 5 African countries namely Uganda, Kenya, Tanzania, Botswana and Cameroon. The work they presented was very inspiring with aims were very similar to those of AFREhealth. 
Prof. Elsie Kiguli-Malwadde-Secretary  AFREhealth making a presentation at the Afya Bora Meeting in Nairobi