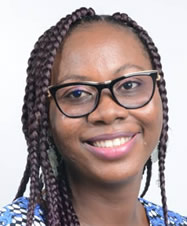 She holds a Bachelor of Science (B.Sc.) Degree in Biological Sciences and a Master of Philosophy (M.Phil.) in Parasitology both from the Kwame Nkrumah University of Science and Technology (KNUST) Kumasi, Ghana. She has previously worked as a Graduate and Research Assistant in the Department of Theoretical and Applied Biology, KNUST where she supervised undergraduate laboratory work and tutorial sessions. She also worked as the Project Assistant on the Ghana Emergency Medicine Collaborative Program under the Medical Education Partnership Initiative (MEPI).
In this role, she ensured the timely delivery of project goals and activities, liaised with consultants and stakeholders and organized workshops and mentoring sessions for trainees on the project. She also served as the College Research Administrator of the College of Health Sciences at KNUST and coordinated the activities of externally funded research projects in the College. She also provided administrative support for researchers in their proposals for funding.
Clara is currently working as the Human Resource Administrative Officer and is responsible for providing administrative and HR support to the AFREhealth Secretariat as well as AFREhealth office bearers.