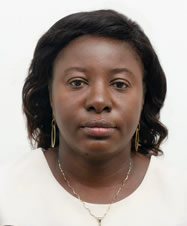 Yvette Boakye has over 18 years' experience in providing professional services across a broad range of finance areas including compliance, business process, accounting, auditing, financial reporting and grant financial management. In addition to her 12 years tenure at KITE, she has held various finance and accounting positions working with Cedar Point Company Ltd, Asante Wiredu and Associates (Chartered Accountants), Precious Metals Refinery and Schneider Electric Ghana Ltd.
Yvette's non-profit experience encompasses grant accounting and financial management of projects involving local and international partners and donors, grant audits, budget planning and administration, grant financial reporting, and project support. With her strong financial background and experience, Yvette Boakye is dedicated to the financial well-being of the organisations she works with.

Yvette Boakye is a Chartered Accountant and member of the Institute of Chartered Accountant Ghana. She is also a member of the Audit Committee of Manhyia Government Hospital and a member of the Association of Women Accountants Ghana (AWAG).